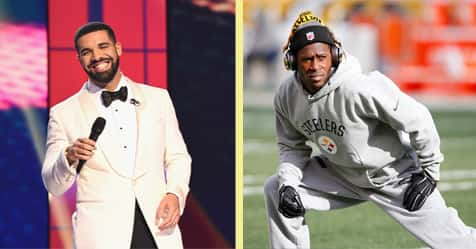 One Miami maid's Valentine's Day just got a whole lot sweeter!
A mother of five, Odalie Paret, commutes four hours to work where she cleans upwards of 14 rooms a day to support her family. When Drake read about her story in the Miami Herald, he knew something needed to be done. Drake has been donating to various causes, families, and individuals throughout the Miami area recently, and nothing changed yesterday.
The rapper joined forces with Pittsburgh Steelers player (and native to Miami) Antonio Brown to provide a $10,000 shopping spree and a day of pampering for this deserving woman. The two met up with Paret later in the the afternoon at Saks Fifth Avenue for her shopping portion. Saks was closed and only open to their shopping spree with her and two other women. The women had no spending limit and 45 minutes.
Drake & Antonio Brown with the lady they took to a $10 000 shopping spree ..good dudes pic.twitter.com/avrAcR0R7s

— OVO SOUND (@OVOWithMyWoes) February 15, 2018
Antonio Brown of the Steelers with Drake pic.twitter.com/zrQWGQKELG

— OVO SOUND (@OVOWithMyWoes) February 7, 2018
This was just the recent of Drake's giving. Last week, he donated money to a local high school and uniforms, gave an University student money towards tuition, and then walked into a grocery store and announced he would be taking the bill for everyone's groceries at a supermarket.
Drake entered a grocery store and made an announcement that everything or anything people wanted will be paid for by him. GOAT