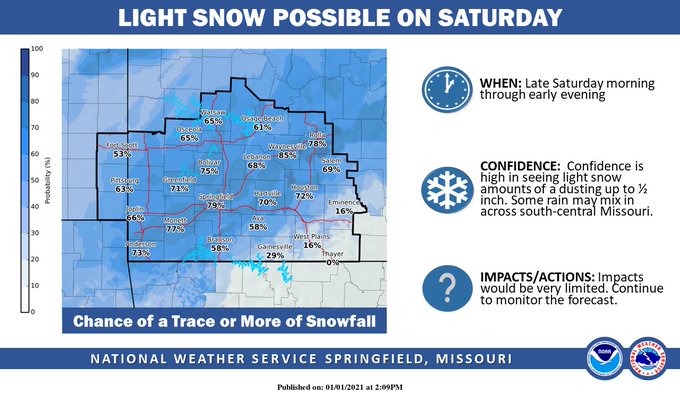 Tonight the National Weather Service is predicting some freezing drizzle and freezing fog.
National Weather Service says the freezing drizzle tonight will be the tail end of the system we just experienced, and the snow coming tomorrow will be part of a separate weaker system.
"We are looking for a freezing drizzle potential starting around 8 p.m. and going until 2 a.m." Meteorologist Jason Schaumann says. "That fog and freezing fog potential will be later tonight, generally after midnight, and that would continue until about 9 or 10 a.m."
For a look at the condition of roads near you, check the MODOT Traveler Information Map.
You can also keep up to date by following the Springfield National Weather Service on twitter.
Do you know the difference between flat and radial ice measuring? Flat ice is the easier to measure than radial ice. https://t.co/nw1fWmKETX pic.twitter.com/QTMeVfWCnf

— NWS Springfield (@NWSSpringfield) January 1, 2021