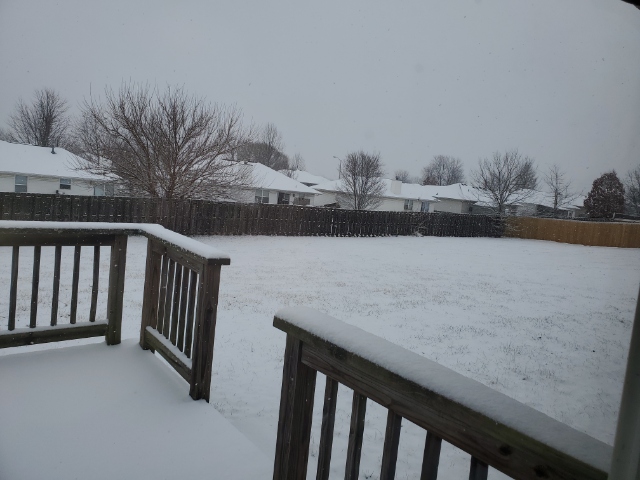 The National Weather Service has extended the Winter Weather Advisory until midnight.
It will be much colder tonight as heavy snow starts to taper off across the Ozarks.
The National Weather Service says heavy bands of snow will be mainly south of Highway 60.
Another inch of snow could fall along the Missouri and Arkansas border.
Elsewhere, light freezing drizzle will fall creating some slick spots on area roads.
Gusty winds will produce wind chills in the teens tonight.
Here are some of the latest snowfall reports between 1 p.m. and 6 p.m. Saturday:
Republic 3.0 inches
Branson 3.5 inches
Willard 3.0 inches
Northview (Webster Co.) 1.6 inches
Ava 4.5 inches
Freistatt 3.0 inches
Original Story
At least one to three inches of snow fell Saturday morning, mainly along and west of Highway 65.
At noon, 2.3 inches was reported in Willard, with 2.1 inches in Republic and 1.9 inches in Billings.
The National Weather Service says the snow won't taper off in the Springfield area until sometime mid to late afternoon.
Some of the heaviest snowfall amounts before noon were in Barry and Lawrence counties.
Monett reported 2.8 inches while up to three inches fell in northern Lawrence County.
At noon, people in Sligo (Dent County) reported 3.5 inches and S Howes (Dent County) 4.0 inches.
Even heavier amounts were reported south of the Missouri and Arkansas line, where up to 5.5 inches of snow fell.
The NWS says temperatures tonight in the Springfield area will be around 20 degrees.
The wind chill will be in the low teens.
A Winter Weather Advisory is in effect until 9 p.m. Saturday night for the entire listening area.