MSU Blood Drive
January 31 @ 10:00 am

-

February 2 @ 3:00 pm

Free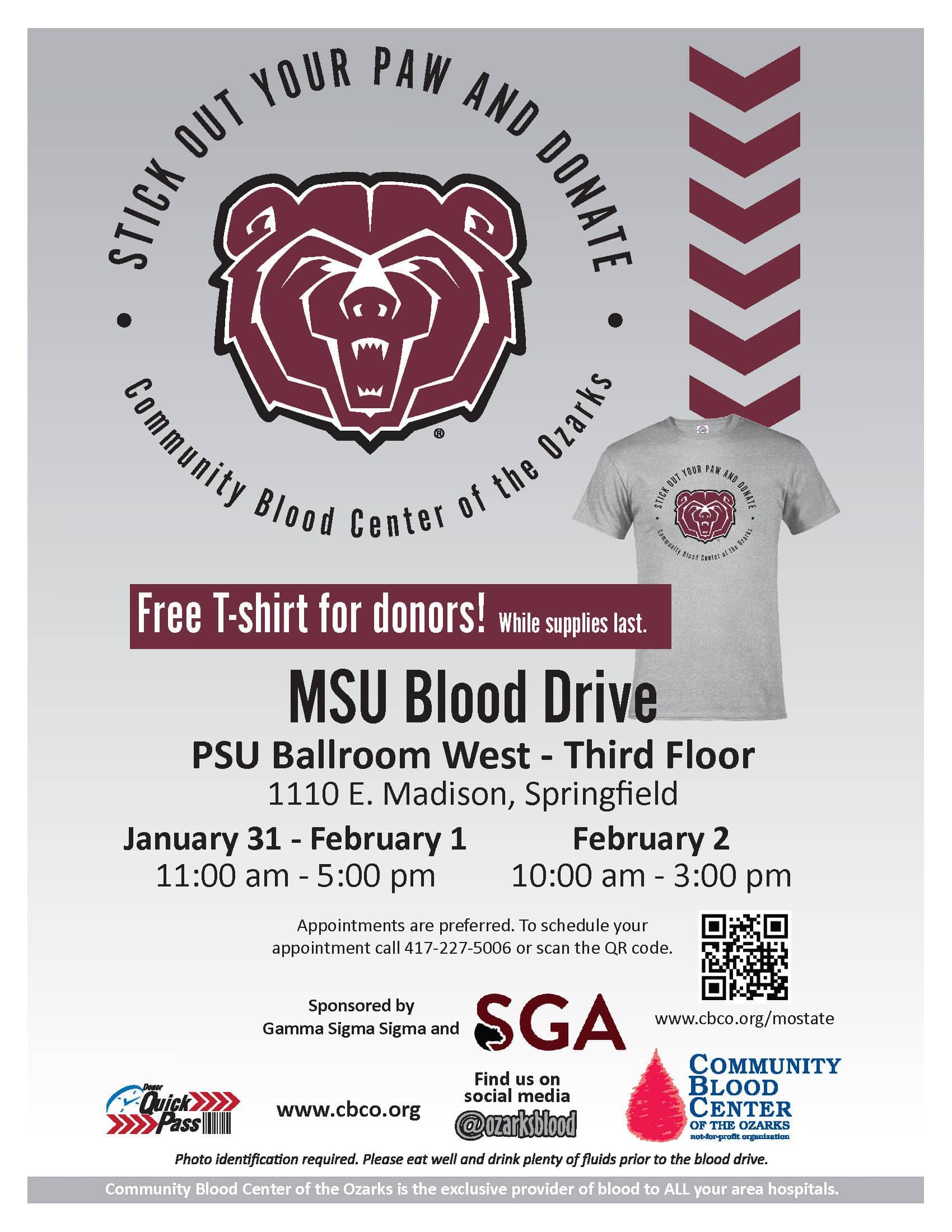 CBCO and MISSOURI STATE UNIVERSITY HOST THREE DAY BLOOD DRIVE JANUARY 31
THROUGH FEBRUARY 2
CLICK HERE to visit the site with all of the details.
Springfield, Missouri – January 23, 2023 – Bears, stick out your paw and donate. The Community Blood Center
of the Ozarks, the sole supplier of blood, platelets, and plasma to patients at 44 area healthcare facilities, urges
donors to help increase the blood supply during the three-day blood drive at Missouri State University campus
Tuesday, January 31 through Thursday, February 2 in the PSU Ballroom West on the Third Floor.
The drive is sponsored by the Student Government Association and Gamma Sigma Sigma. Successful donors will
receive a custom shirt with the MSU bear logo that states "Stick out your paw and donate", while supplies last.
Community Blood Center of the Ozarks donors provide all the blood for patients at CoxHealth South, Mercy
Hospital Springfield, as well as dozens of healthcare facilities across the Ozarks. Students and staff will have the
opportunity to donate at the following location:
MSU Blood Drive
PSU Ballroom West – Third Floor
1110 E. Madison, Springfield
January 31 – February 1 February 2
11:00 am – 5:00 pm 10:00 am – 3:00 pm
Each donation can help save the lives of up to three people in the Ozarks. On behalf of local hospital patients,
Community Blood Center of the Ozarks thanks blood donors from across the region for giving life to your
community.
Appointments are strongly encouraged. To schedule an appointment, visit https://www.cbco.org/mostate/ or
call 417-227-5006.
Photo identification required. Please eat well and drink plenty of fluids prior to the blood drive.
Related Events